Gutter cleaning using  gutter vacuum system.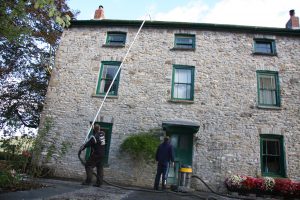 We introduced a gutter vacuum system to improve safety in gutter cleaning in 2009.
We still continue to offer this service an in 2017. The gutter vacuum is capable of dealing with domestic and commercial guttering.
Regular gutter cleaning keeps rain goods clear. Clear guttering allows water to flow away from the property.
Dirt, debris and silt are removed from inside the guttering. All safely from the ground.
We offer professional gutter cleaning and gutter clearing services in Wales.
Be aware that due to high amounts of claims, insurance companies now place a clause in many policy terms in annual inspection and removal of blockages.
Employing a professional gutter cleaner to deal with an annual clean combats problems with insurance companies.
Cleaning of gutters on houses, retail shops, offices and large commercial buildings.
Where we cover
Gutter vacuum cleaning systems Wales

Gutter clean in Wales

Domestic Gutter cleaners 

uPVC Gutter clearing services Llanelli

Gutters cleaned in Carmarthen

Domestic Gutter unblocking in Ammanford
Residential Gutter emptying in Crosshands

Cleaning guttering using gutter vacuum to unblock guttering
We can offer regular maintenance services to keep your guttering working.
Unblocking – cleaning of guttering can be essential to keep your property free of damp or damage that overflowing guttering can cause.
The cost of leaving guttering overflowing can cost many hundreds of £'s and sometimes Thousands if left untreated.
Gutter cleaning contact 07773900777
We offer other cleaning services and this includes regular window cleaning.
Our window cleaning services can be booked in the same way.
We have found customers return to us periodically as they know they can rely on our reliability and quality of service.
We have dealt with small bungalows, houses, very large commercial guttering and industrial gutter systems.
If its blocked call us with no delay.