Ramps Skate Park  Sandpiper Road, Llanelli, Dyfed SA15 4SG
01554 773399
Ramps skate park Llanelli opened it's doors today July 20th 2013 at 8.00 AM and quickly ramped up some trade.
People where talking of how well the ramp layouts work and the build is fantastic. Skate boarders, free style bikers, inline roller blades and scooters  working around each other with respect.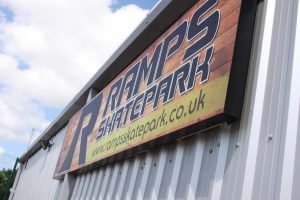 Ramps Skate Park looks set to bring people from across the UK to explore the set up and enjoy the circuit.
Novice or Pro there is plenty to do.
A great place to meet up, hang out and enjoy life. Food on site for everyone to enjoy.
Ramps Branded clothing and accessories will truly make the ultimate experience to take home after you leave. Indoor course all weather without the worry. Outdoor where you can get awesome height.
Followers of WelshCakes will here of this park as he was running the Ramps today and getting his take on how things flow.
Well early indications show the hard work made to open this skate park has been well spent. A great buzz and atmosphere a brilliant place for enjoying the activity you most enjoy.
We will be uploading new images regularly and hope you visit here and visit www.rampsskatepark.co.uk  regularly to see what is happening.